Fashion blogs have been around since the early 2000s, but today, blogging is a whole new ball game. While fashion blogs are at an all-time high, we can't argue against the fact that social media platforms like Instagram remain the single largest forum to redirect traffic towards fashion blogs. But we are not complaining, because that's made our lives twice as easy.
It's a hashtag game out there, and that's how we are neck deep into people's profiles – engrossed, enamored, and even losing a few days while browsing one hashtag after another. Sometimes it can be overwhelming too, to see every second influencer with thousands of followers (and sometimes millions) and the stuff they have to offer. But some fashion bloggers manage to stand out despite all of it. And we are going to talk about them today. If fashion and being updated is your thing, you need to follow them! Check the list, below!
Top 15 Famous Fashion Bloggers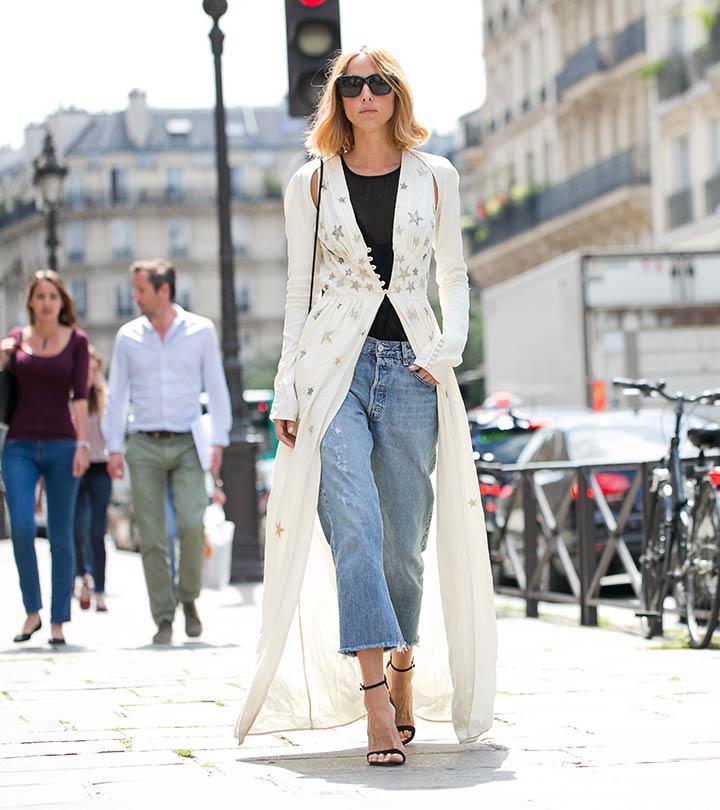 1. Gabi Gregg – OG Fat Girl
Gabi Gregg set off on this journey to tackle the infuriating gap for plus size women. She started off a blog about a decade ago to show and pave a path in a way that promotes body positivity while being impeccably stylish, vibrant, and colorful. Her outfits are full of life just like her, and so is her clothing line Premme, which caters to plus sizes. She brought, what she calls 'the fatkini', by collaborating with 'Playful Promises' and 'Swimsuits', and showed us how it's done. We need more women like her, and thanks to social media, we get to follow her around.
Blog – gabifresh.com
Instagram – www.instagram.com
2. Lisa Gachet – Make My Lemonade
The Parisian fashion blogger and DIY queen Lisa Gachet started blogging a few years ago, and recently launched a brand that represents something she truly believes in – Do It Yourself Fashion. It's a fascinating concept of making limited edition clothing that is a reflection of your personality, but affordable. Her brand is unique, and her feed is colorful. Follow her for all of it, and more.
Blog – www.wearlemonade.com
Instagram – www.instagram.com
3. Wendy Nguyen – Wendyslookbook
The 5 foot something petite blogger inspires you in more ways than one. A fashion blogger with a passion for people, art, culture, and music brings all of it together. Wendy wears a lot of hats; she is a blogger, content creator, and a juvenile justice advocate who is just as passionately working towards helping foster children, because she understands the struggle, for she has been one. From moving foster homes to graduating from UCLA, Berkeley in Psychology, to being an influencer, she is indeed an inspiration. She believes that you can rope it all together and make fashion statements that replicate it all. Check her blog for some much-needed inspiration.
Blog – www.wendyslookbook.com
Instagram – www.instagram.com
4. Kat Farmer – Does My Bum Look 40
At 43, Kat Farmer is a fashion blogger, wardrobe consultant, a personal stylist, and full of life. In her own words, she's trying to tackle the 40s without being frumpy, and her statements are just that. There's an exciting balance of feminine, floral, and fashionable pieces put together, redefining style.
Blog – doesmybumlook40.blogspot.in
Instagram – www.instagram.com
5. Lyn Slater – Accidental Icon
Lynn Slater started the 'Accidental Icon' because of the dearth of fashion blogs catering to the needs of women over 50s, 60s and beyond. You won't find too many people like her, but you know the world needs more of that. With snow-white coiffed hair, this sixty-something grandmother is living it all up and raising bars, more like breaking barriers for all the right reasons. With floral kimonos, flaming hot oversized sunglasses, and a contagious fashion sense, Lyn Slater believes and shows us time and again that 'age is just a variable.' Thanks for proving the world wrong, Lyn, your 400,000 and growing fan club couldn't be more grateful.
Blog – www.accidentalicon.com
Instagram – www.instagram.com/iconaccidental
6. Akanksha Redhu
Akanksha Redhu's blog is a mixed bag and treasure trove. From everyday looks to travel posts, lifestyle, beauty tips, event coverages, and of course fashion, which remains the constant for all the categories – she posts it all. What started with an idea to journal fashion statements, is now 131k strong on Instagram, and one of India's top fashion blogs. If you don't follow her yet, make sure you do.
Blog – akanksharedhu.com
Instagram – www.instagram.com
7. Tami Reed – Talking With Tami
Everything about Tami Reed is fascinating. Her personality, aura, wit and humor, fashion sense and everything else that caught the attention of big brands in no time. She had a substantial social media presence even before she turned into a fashion blogger. Tami wanted to do something concrete, and that's how it all started. From being a red-carpet consultant to an entrepreneur, Tami Reed is a go-getter! For more inspiration and to stay updated with everything big happening in Hollywood or otherwise when it comes to fashion, check her blog.
Blog – www.talkingwithtami.com
Instagram – www.instagram.com
8. She Wears Fashion
At 16, Kavita Donkersley started 'She Wears Fashion' but she admits that it was all a mess and she was just confused as any 16 year old would be. However, she kept at it, and discovered her love for fashion and travel with every passing year. And today, at 23, she has 56k (and growing) Instagram followers. Just with perseverance, a lot of hard work, and a little luck, she grew in the industry. She is associated with big brands, and is a guest at prestigious events like Coachella, etc.
Blog – www.shewearsfashion.com
Instagram – www.instagram.com
9. Tanesha Awasthi – Girl With Curves
Tanesha Awasthi's blog is honest and relatable to women across the world because wherever we are from, insecurities and looking a certain way seem to be our lives' biggest struggle. Her story from wanting to fit in to pursuing her passion for fashion doesn't have to be typecasted after all. From owning up her body type to spreading body positivity, and mostly being fashionable, Tanesha is a real star, the kind we all need, the one in the most real sense. Follow her for tips, hacks, trends and everything in lifestyle, fashion, and beauty.
Blog – girlwithcurves.com
Instagram – www.instagram.com
10. Claire Goldsworthy – The Fashion Advocate
Claire Goldsworthy goes by and is famous for her Instagram handle – The Fashion Advocate, and she is a real manifestation of that. The Australian fashion blogger is not your typical run off the mill pulling off latest-trends-blogger. Rather, her style diary, which is her blog, got her thinking about the fast-moving fashion around us, and how we have forgotten the art of consuming products with values and ethics. She interviews, associates, and encourages brands with an ethical and moral binding as opposed to just the highs of fast fashion that become obsolete almost instantly. Check her blog, and follow her on Insta, and I'm sure she will get you thinking.
Blog – thefashionadvocate.com
Instagram – www.instagram.com
11. Chriselle Lim – The Chriselle Factor
The Chriselle Factor on Youtube has close to 29 million views, and over half a million subscribers, which is why she is undeniably the biggest fashion blogger and expert there is. Even though she has been associated with big names in the fashion industry, she started the blog as a journal to share her personal style and musings, and she turned into a Youtube content creator to educate, share, and inspire women.
Blog – thechrisellefactor.com
Instagram – www.instagram.com
Youtube – www.youtube.com
12. Leandra Medine – Man Repeller
Leandra Medine is an American author, fashion blogger, and a humor writer. The blog 'Man Repeller' is a quirky yet rooted and an honest place that talks about everything women love, and men hate – to quote her. She has an exceptional ability to blend high-street fashion and giving it a comedic aesthetic to prove her life's motto that you don't have to take everything seriously. That's how she came about the idea of starting this blog with a bunch of others that align with her ideas. It is a blog that is about more than just one woman sharing her personal style, but rather a team ringing in millions of monthly views. Check the blog, and you'd know what we are talking about.
Blog – www.manrepeller.com
Instagram – www.instagram.com
13. Diana Horsfall – QUEENHORSFALL
The Korean-American fashion blogger is a lifestyle and travel blogger, also the Editor-In-Chief of International Fashion Bloggers In Korea. Her blog is a beautiful blend of Western fashion with streaks of Eastern style, serving the best of both the worlds for you. She is a constant at Seoul, New York, and all other big fashion weeks.
Blog – www.queenhorsfall.com
Instagram – www.instagram.com
14. Danielle Bernstein – We Wore What
Danielle Bernstein's 'We Wore What' has an interesting approach that focuses on style, fashion, and just that. You'd realize that her posts are often full angle shots, with barely close angle pictures, because she is someone who believes that she loves fashion, so everything else can take a backseat. She wants her followers to focus on her outfits, and we think it brings an excellent perspective to the table. With over a million followers that get a dose of her everyday outfits, she is an unstoppable force.
Blog – weworewhat.com
Instagram – www.instagram.com
15. Jessica Wang – Not Jess Fashion
Jessica Wang is an Asian American blogger turned digital style expert from New York with a fan base of more than a million. Her design aesthetics are breathtaking, off-beat, and fulfilling, which is a terrific combination and precisely what fashion influencers need to be. From breaking stereotypes, challenging fashion trends, and merging high street fashion with luxury fashion, Jessica Wang is an influencer in the most real sense.
Blog – www.notjessfashion.com
Instagram – www.instagram.com
We could all use some fashion inspiration, and that's why we rounded off some of the best out there. Not all of us can afford designer collections or limited editions, but we can surely pick up from the cues these bloggers give away, and style our outfits to make them look exciting, if anything. Who are your style icons? Do you have fashion gurus you follow? What are your go-to fashion blogs? Let us know by dropping in a text in the comments section below.